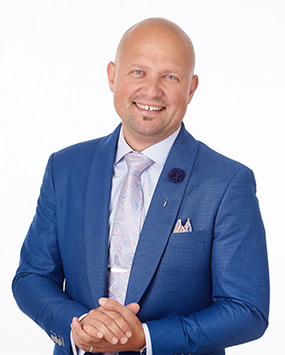 Sean Kirady - Broker Of Record - RE/MAX One Group
204.233.9396 - Brokers@RemaxOneGroup.com
Denis-Michel Thibeault
REALTOR®
RE/MAX One Group
Denis-Michel Thibeault
When I made the decision to start in real estate, I dove in head first and I earned my license in a couple of months. Before the Moore Group knew about me, I knew about them—and I definitely knew I wanted to join them. There was no doubt I wanted to be part of the best team in the city.
I could not have made a better choice. Real estate is a fantastic fit for me. One of the things that sets the REALTORS at the Moore Group apart from others is that we don't wait for inventory to show up for our clients—we go out and get it for them. The same skills that I used to get to the bottom of a story transfer so well to finding inventory, putting deals together, and tough negotiations. I have found it to be a very smooth transition.
I have also found it super rewarding! I love finding people the home that they will raise their kids in! How cool is that?
When asked about how he has so much success, Wayne Gretzky would answer that he just wants to "skate to where the puck is going to be, not where it has been." And this is what Winnipeg is for me: a city full of potential, and that's what I want to help you see.
Looking back at the last five years, I realize how much things have changed for the better, and how the city is thriving more than ever. In the words of Wayne Gretzky, I believe this is where the puck is going. The city is growing, and more and more people are looking to move here. If you are looking to move, let me help you find your Great One.