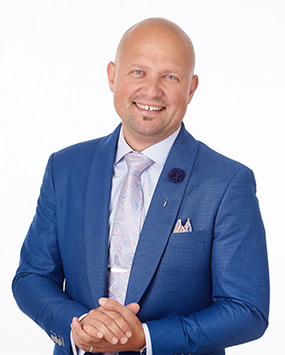 Sean Kirady - Broker Of Record - RE/MAX One Group
204.233.9396 - Brokers@RemaxOneGroup.com
Jim Hollingsworth
REALTOR®
RE/MAX One Group
Jim Hollingsworth
I believe that I was born to sell real estate. My mother was a mortgage underwriter for 25 years and my father was a commercial banker who financed many residential sub-divisions in Winnipeg in the 80's and 90's, so I came by it naturally. My first choice for a career was in real estate — in high school, I arranged an internship with a team successful of realtors and loved every minute of it.
I left Winnipeg in 1999 to pursue my ambitions out West, first in Calgary, then Vancouver. Still interested in real estate, I got started with home renovations.
I began on the tools, learning paint, drywall and finish carpentry and quickly worked my way up into a leadership role, ultimately as Sales Manager for a successful construction company. I led everything from kitchen and bath renovations to numerous multi-million dollar restorations. I found a real love for turning old and damaged homes into vibrant homes ready for the next generation.
I later moved onto commercial tenant improvement and large-scale commercial builds including work for Facebook and Microsoft's downtown Vancouver campus.
Praised for being an effective communicator and facilitator, I grew my portfolio of successful renovations that were delivered above expectations.