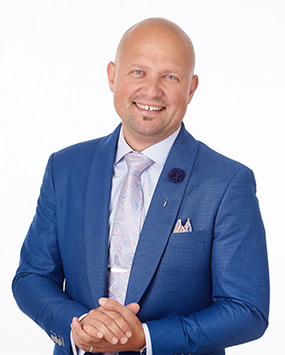 Sean Kirady - Broker Of Record - RE/MAX One Group
204.233.9396 - Brokers@RemaxOneGroup.com
Blair Reimer
REALTOR®
RE/MAX One Group
Blair Reimer
My introduction to real estate was back when I was a newly minted 22-year-old Red Seal electrician, and I bought my first home. My REALTOR was my father's best friend, and I just absolutely loved the process of buying a home —but the problem was that it created a major UH-OH moment, as in: uh, oh, I think I picked the wrong career.
Fast forward through 25 years of owning and operating a successful electrical contracting business focused on high-end custom homes, building and selling three homes of my own, purchasing multiple investment properties, and, most wonderfully, building a beautiful family. However, with each additional real estate transaction, that feeling that I wanted to be a REALTOR only grew.
Eventually, the timing was right. I sold my business and it was finally time to pursue my life-long dream and become a REALTOR.
Just as I did in my 25 years of entrepreneurship, in my real estate practice I focus on providing you not only with the best results but also with unparalleled service, tailored to your unique needs. I listen carefully to understand your goals and work hard to create a plan you'll be excited about.
I pay attention to detail and make the buying or selling experience simple, fun, and enjoyable. Whether the property is 100K or 1M I treat the transaction equally: with integrity, top-notch customer service and unparalleled professionalism.
I also try to have fun! One of the things that sets real estate apart from other types of sales is that it can be so much fun to find and buy a new home. Being a part of that magic never gets old!